POWER WASHING & MAINTENANCE
TOP 5 REASONS TO POWER WASH YOUR HOUSE
Power washing your house or property in Amador County, California could seem like an extravagance, especially if it's your first time or if you're not aware of the benefits. In reality, however, it should be part of your home maintenance routine.
The exterior of your home is exposed to harsh elements at all times –from the sun, wind, dirt, ultraviolet rays, insects, and birds, to things like pollutants, acid rain, smoke, and car exhaust. All these eventually contribute to staining, damage, discoloration, and soiling of your home's exterior.
Power washing is the most efficient and effective way to clean the exterior of your home, restore its beauty and safeguard your investment as well as your time. Below is a little bit more detailed look at the benefits of power washing your house in Amador County, California.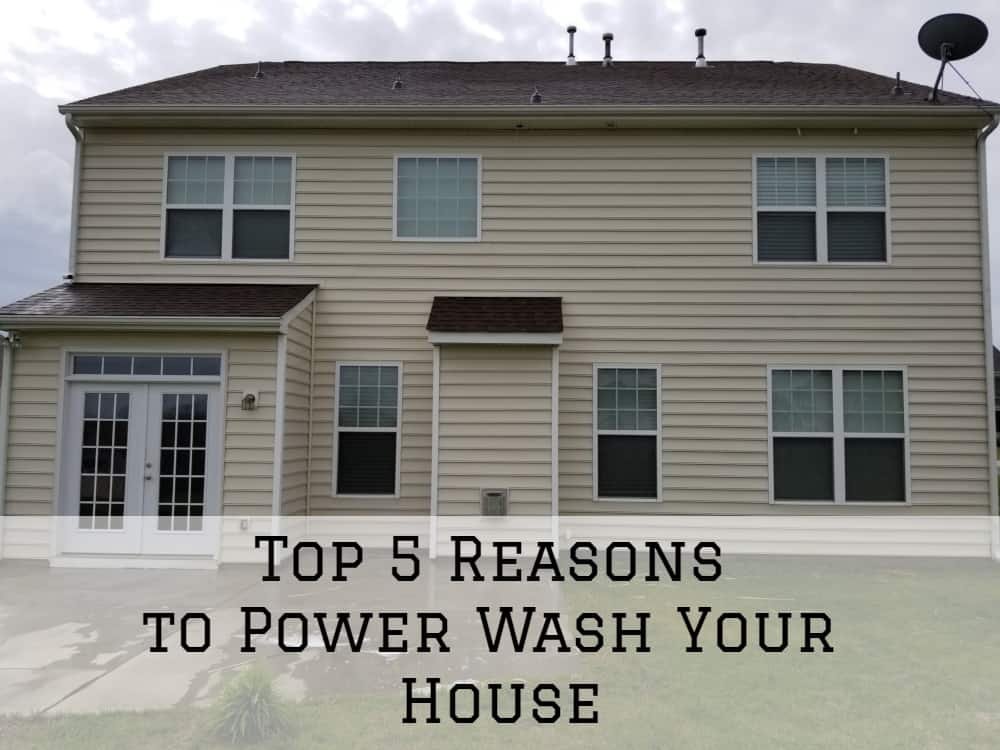 So Fresh & So Clean-Clean.
Prevents Permanent Damage
If not taken care of in good time, winter grime can cause stains and damage on the exterior of your home. Allowing grime, stains, dirt and debris to sit on your siding for too long can cause permanent damage. Compared to other traditional cleaning methods, power washing can quickly get rid of the stains, dirt, and grime without negatively impacting the environment.
Saves Money
Power washing is an incredibly, effective, preventative maintenance of your home's exterior; it's more like cleaning your gutter. It can prevent costly repairs that result from things like mold and mildew damage, stubborn stains and grime that often lead to paint failure. Additionally, power washing happens to be the least expensive and most cost-effective way of cleaning large surfaces such as the exterior of your home.
"If you're considering selling your home, power washing could help you sell it not just faster, but at a handsome price tag."
Saves Time
Have you ever tried cleaning a section of an interior wall that has been smudged by a kid? Now, imagine washing your entire exterior by hand! Your time is valuable, and compared to regular cleaning methods, using a pressure washing service saves that valuable time. No strenuous activity, endless scrubbing or climbing ladders.
Hand washing will take you hours (and effort) just to get a fraction of the result –it simply doesn't have the same power as pressure washing. And when it comes to cleaning specific walls such as stucco walls, there is simply no other effective method apart from power washing.
Increases Property Value
If you're considering selling your home, power washing could help you sell it not just faster, but at a handsome price tag. The exterior of your home gets stained, discolored and grimed over the years, and this can quickly cause your property to lose value.
Power washing refreshes your home's look by dislodging all the dirt and debris, as well as wiping off stains caused by mold and mildew. Remember, first impressions matter a lot when it comes to closing that deal. If the condition of your exterior degrades the curb appeal and gives off a less than perfect first impression, potential buyers will carry that feeling throughout the house viewing session. And you don't want that.

Prepares Surfaces
Winters in Amador County and the surrounding areas of California can be long and cold, and spring is the perfect time to tackle power washing and other exterior enhancement practices. Pressure washing is one of the most important steps when preparing to repaint your home.
Whether you need to re-stain your deck or repaint your home's exterior, power washing will clean your surface much better than other methods. Painting on a surface that is not properly cleaned can lead to paint failure with things like paint peeling, bubbling, and cracking happening within a year or even months.
Bottom Line
Power washing is clearly an efficient, effective and inexpensive way of refreshing the look of your house, preventing permanent damage and increasing your home's value while saving money and time.
Why Hire Us For Your Amador County Pressure Washing?
At Michael Hines Painting, we believe in the value of lifetime relationships. We believe in taking the care and time to not only do the job well, but expertly. That is why we will never sacrifice the quality of our work or provide you with poor service.
Still not sure? We suggest you listen to what some of our clients have to say about us Reviews, or to read a little bit more about what makes us passionate about protecting your home check out Our Story!
If you're looking for a pressure washing company that can expertly clean your business, or there is anything we can do for you- Please just let us know.
Michael Hines Painting & Pressure Washing has the knowledge and training to identify the right process and products for your Acampo commercial pressure washing project. We are eager to show you the quality, confidence and peace of mind our services will bring to your home. Please contact us using the form below or call us right now at 209.256.4587 to get started. We look forward to hearing from you.
Want new articles before they get published?
Subscribe to our Awesome Newsletter.