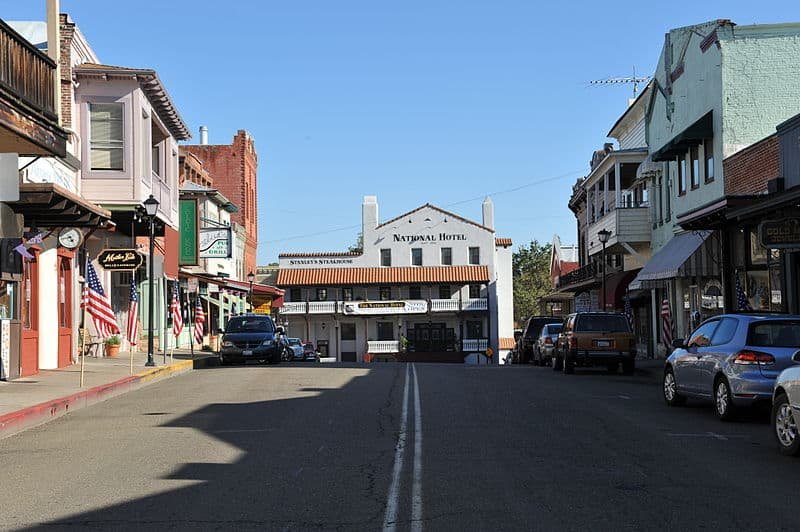 Hiring painting contractors in Jackson is one of the most important decisions you can make. Many of the house painters in Jackson will look at your house without taking the time to find out what you need and without offering suggestions about the painting of your home.
A lot of the stucco homes are great candidates for Elastomeric coatings. But in order to apply the paint properly you need professional equipment and the experience to determine if the siding is suitable for an elastomeric coating.
Hiring knowledgeable painting contractors in Jackson, CA for your painting project is the best way to make sure the investment in your home is money well spent and the job is done right. The benefit of hiring a well trained, and local, house painter is that you get their years of experience and problem solving catered specifically to your house and the local climate it is exposed to on a daily basis.
Any painting contractor you consider for your house painting in Jackson should know how to apply different coatings, identify potential problems that might compromise an elastomeric paint job and explain:
Equipment needed specifically for the project
Differences between products
Points of failure
How to correct them
The correct product for your home
Interior Painting in Jackson, CA
Painting the interior of your Jackson home or office is a great way to update your look and add value to your property.
If you are having a difficult time deciding on an interior paint color for your Jackson home there are a few things you can look at to help you with your decision. You can look at the items in your home including:
Furniture
Window Treatments
Flooring
Countertops
Art & Decorations
If you are painting the interior of an office it is also important to keep in mind how the color might affect the mood of your employees or clients. Unbalanced color coordination in your interior can lead to feeling low, or depressed, and thus affect productivity and overall health.
If you need extra help deciding on the color for your interior painting we can offer a discerning eye to guide you. Jackson, ca homeowners enjoy first-class service from a local, professional, interior painter.
Jackson CA Exterior Painting
The exterior of your Jackson home or office is exposed to the elements more than any other painted surface on your property. It has to withstand extreme heat in the summer and the cold breeze of the winter. Not to mention the effects of contaminates like smog, pollution, dust and pollen. Hiring a quality Jackson house painter for your exterior paint job will ensure that it is done correctly and will make maintenance easier.
It might seem like the color you choose for the exterior of your home is the perfect opportunity to show off your personal flare. But, it is smart to use some restraint. A bright purple house with pumpkin orange trim will decrease the value of every home on the block, and probably make your neighbors mad at you. Generally it is best to use an exterior color scheme that will compliment the rest of the neighborhood so that your property adds to the appeal of a neighborhood.
Pressure Washing In Jackson, CA
The buildup of dirt, mold and mildew happens around your home as time passes. This build up will slowly damage the curb appeal of your house. But, more importantly it can affect the health of your family and pets.
Thankfully, power washing services from Michael Hines Painting are designed to eliminate these problems.
We can pressure wash your Jackson home or office using a low pressure soft wash. We can apply child and pet safe detergents to your home that remove years of grunge build up. And, we can apply it with low pressure so you don't have to worry about your siding or windows being damaged.
Your driveways and sidewalks can be a little more challenging, but Michael Hines Painting's technicians can use a high pressure cleaning to remove stubborn dirt from these surfaces and make your entire home shine with a fresh appearance.
Jackson, CA Commercial Office Painting
Painting your Jackson home is one thing, but painting your Jackson business is an entirely different task that comes with entirely different worries. Can I use the same paint I used on my house for my business? What colors are going to attract the type of customers I want? Am I going to have to close the business while the paint job is being completed?
The professionals at Michael Hines Painting have the answer to all of these questions and any others you might have in regards to your commercial painting needs.
Michael Hines Painting will work with you to set a time-frame for your project and to help you pick a color scheme that will add the right touches for the type of business or office you are running.
Michael Hines Painting knows what it takes to create a custom painting project that will beautify your home or office in Jackson, CA. We are eager to show you the quality, confidence and peace of mind our painting services will bring to your home. Drop us a line or call us at 209.256.4587 to get started. We look forward to hearing from you.