As a homeowner, I understand the allure of being a do-it-yourselfer when it comes to tackling home improvement projects; even when you don't know exactly how to do something.
Painting seems like such a simple task, many people think that they can do it quickly and with no hassle. After all, what could be easier than slapping on some primer and a fresh coat of paint, right? Well this mindset is exactly what leaves some people feeling like they have taken on more than they can handle. More often than not, they make one of these mistakes: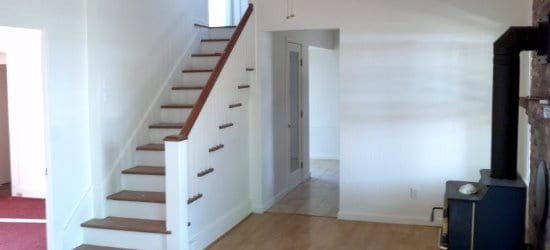 Forgetting to use an undercoat (Commonly called Primer, but  we will discuss that later): For certain colors an undercoat helps prepare the wall surface for the paint. It acts a base coat that lifts the color of the paint so it looks exactly as it should. Sometimes, without one, the color could end up looking lifeless, and you will probably want to repaint quickly; or it could end up taking 3-4 coats to get adequate coverage. Something you may not know, is that you don't always want to tint the primer to your top coat. Red for example, will go on easier, and look better, with a gray undercoat.
Rushing the Work: It takes time to do a professional looking painting job. Some homeowners start, not knowing just how much work is ahead of them. If they start to rush the job, they will end up with less than desired results. Before the painting can start, the surface must be prepared. So, any imperfections such as holes and cracks should be dealt with first.
Not Using Tape: Working around areas like baseboard and door trim requires sharp lines. Trying to get these edges while using a brush is a mistake. Applying painter's tape to the areas you want to keep free from paint is the best way to get the job done right.
Using the Wrong Technique: Using a brush on a large surface can leave you feeling frustrated with the amount of time the job is taking. A roller or sprayer can do more in less time, although they can be more challenging to use. Choosing the technique you will use can save a lot of headaches in the long run.
Buying the Wrong Amount of Paint: It will be difficult for you to calculate how many gallons of paint you need without experience. Having to head to the hardware store to get more paint in the middle of the job only adds to the project time and increases your frustration.
Not Protecting Surfaces: You might be in such a hurry to start painting that you don't do enough to protect your floors, furniture and doorknobs. Use drop cloths to keep your floors and carpets clean, and cover doorknobs with tape, or better yet- Remove them altogether.
Avoid the Hassle and Call Us:
When your home needs painting, leaving it to the painters at Michael Hines Painting can save you the hassle and stress of doing it yourself. Even something as seemingly simple as a paintjob requires the right amount of attention to detail. At Michael Hines Painting, we know exactly how to do every job, big or small, so give us a call at 209-256-4587 today.