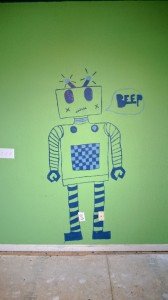 Home improvement projects can be very stressful, and the last thing you want after you paint a room is to realize you've made a mistake in your choice of paint color. Call me at Michael Hines Painting at 209-256-4587 if you would like to discuss paint options or schedule a consultation in your home. Here are some common errors people make when choosing paint for the interior of their home, and how you can avoid them.
Choosing a Color that's Too Bright for the Room
Don't get me wrong, I like color! I even like bright colors. But sometimes they just don't work in a specific type of room without very careful planning and consideration. Lighter, more muted tones generally work better on walls than bright, strong hues. If you are set on a bright, saturated color for your walls, you'll want to choose neutral tones for your furniture and other decor.
Choosing Fad Colors
Colors like saturated cobalt blue or bright deep magenta come in and go out of style quite quickly. They can look great as a ceramic dish or accent rug, but when you splash the color across the walls it multiplies the strength and depth exponentially. A room can only support one focal point, otherwise the colors end up fighting with each other, and you never really achieve the peaceful feeling you want in the room.
Forgetting it's a Home, Not Just a Room
Especially in homes with open floor plans, remembering the flow from one room to the next is important when choosing your paint colors. It doesn't mean that every wall in your house has to be the same color just because you can see into three rooms from one point of view, but if you've painted jewel toned accent walls in two rooms, a pastel color is probably not the best choice for a third adjoining room.
Consider how the colors will change and flow into one another when you cross the threshold. This is also a consideration when deciding which wall to choose for an accent wall – which wall do you see first when you walk in to each room?
Losing Sight of a Room's Purpose
The color on your walls affects not only the look of your space, but the feel as well. Fire engine red may be your favorite color, but putting it on the walls in a bedroom is not necessarily going to create a restful, serene space. Cool colors, like blues and greens, are great for creating relaxing, calm spaces. Shades of yellow and orange can be great for infusing more energy in excitement in spaces like dining rooms or areas where you'll be entertaining.
Choosing the Wrong Contractor
I know you've probably checked out a few different contractors while trying to find the right one for the job. You've probably seen several with low ratings, and you choose to avoid those for that very reason. The internet makes it so easy to find the contractors to avoid due to low ratings, but it also helps locate good service providers with amazing track records. Check out some of our reviews and then give us a call at 209-256-4587 to schedule your free consultation appointment.