Linden deck staining from Michael Hines Painting is the best way to protect the investment you made to have your deck built. Decks are a popular way to add outside living space to a home. They provide a great space to relax, entertain your family and friends, and enjoy a barbecue on a spring weekend. Your deck is an extension of your home and must be treated as such.
However, like most exterior surfaces, they need to be properly maintained. An old, weather-worn deck decreases the visual appeal of the entire home. Repairing, cleaning, and staining your deck could be the pick-me-up your home sorely needs. Proper maintenance will bring you many years of happiness and provide the perfect spot for cookouts with family and friends.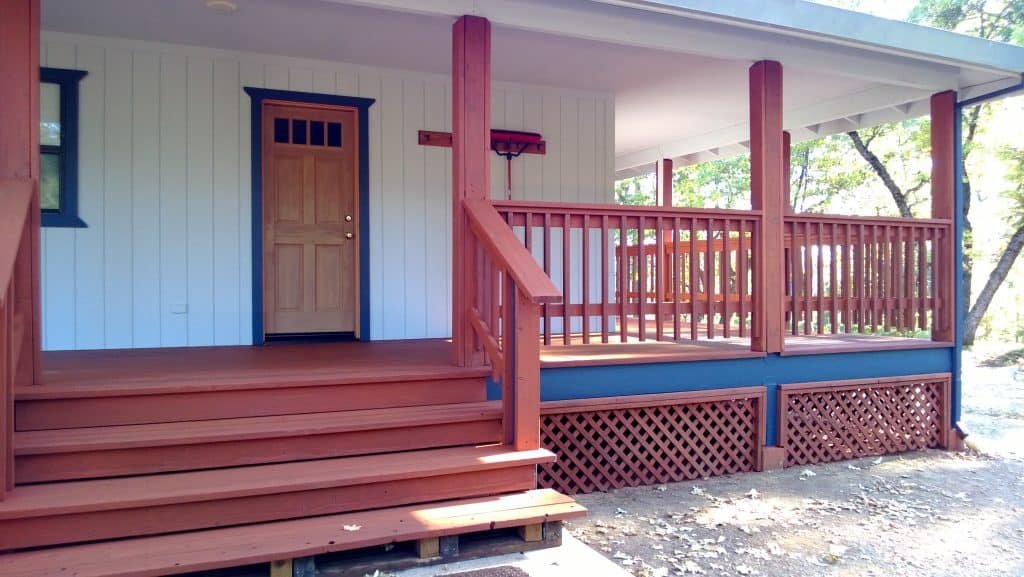 Maintaining a deck's like-new appearance isn't as easy as many people think. Such maintenance is often put off until major repairs are required. Unfortunately, that may be too late for your deck.
Stains can only protect your deck for a period of 1-5 years. Your deck takes a beating from water and sunlight. A poorly maintained deck quickly turns gray as the wood fibers deteriorate from their exposure to dirt, mold and other contaminates. And after that, mildew, moss, and bugs will start to think of it as a cozy home.
Once the splinters start to form and algae start to grow the average deck will start to show signs of damage in less than a few years.
Your deck provides a beautiful spot for you and your family to relax. So it's important to stay up to date on the maintenance so that you can continue enjoying it. Since you have better ways to spend your time, call Michael Hines Painting. Our professional deck stainers in Linden have helped other homeowners just like you with all of their deck maintenance needs.
Ready To Get Started? Click Here To Go Straight To Our Email Form!
Why Linden Deck Staining Is Important
Even the perfect surface will fade or become worn over time. Water, dirt, food, pollution and the elements wreak havoc on your deck every year. Rejuvenate your deck with a good cleaning and pressure washing once a year. Add a sealant to protect the wood and stain it every other year to maintain a like-new appearance.
Wood restoration is an important part of maintaining the beauty of your home. We are very careful to ensure that your deck is transformed from the worst possible condition into a focal feature of your outdoor entertaining.
Deck cleaning often begins with a mild cleaner and a good pressure wash. Pressure washing can damage the wood if it isn't done correctly. Our experienced team of Linden deck stainers is standing by to help restore your deck to its original beauty.
Decks Are Your Outdoor Living Room
Home life doesn't mean you have to stay indoors! Your deck deserves the same attention as the rest of your home. A properly maintained deck provides additional space for birthday parties, hot tub parties, family gatherings, or simply hanging out with your friends.
When the long winter season ends, and it's time to start enjoying the outdoors, you may have a routine to get ready for spring- You dust and clean the outdoor furniture, check the barbecue, and blow off the deck. But that shouldn't be the end of it.
A beautifully stained deck with the perfect deck furniture becomes more than just a deck; it is transformed into an outdoor extension of your home. It's often the perfect spot to watch the sun rise or set, depending on your daily routine, or simply relax and enjoy the benefits of fresh air and nature.
We understand that most homeowners don't have the expertise or the time to maintain or repair their deck. Our professional team of employees will help maintain the like-new appearance that really captures the attention, and the envy, of your friends and neighbors.
Is Linden Deck Painting Better Than Deck Staining?
The short answer is No. Ordinary paint should never be used on a deck.
The coating that is used for decks needs to do two things-
It needs to hold up to being walked on. This means it needs to be flexible enough that it doesn't start chipping off.
It needs to allow water vapor to escape through the coating. This is usually referred to as a perm rating.
Ordinary house paints and primers aren't made to stand up to walking, and while some of them will allow the water vapor to escape fairly well, any coating that goes on a deck really needs to do both things well.
Fence Staining In Linden
If you live in any sort of subdivision or dense city area you probably have some type of privacy fence. Have you spent time looking at your privacy fence and wishing it was different than everyone else's? If so, you'll be happy to know that our Linden fence painters can customize it with a nearly unlimited choice of colors.
If you are tired of your gray, weathered boring fence we would love to help restore the natural texture and color of your wood fencing.
Why Choose Michael Hines Painting To Be Your Wood Stainer In Linden?
At Michael Hines Painting, we believe in the value of lifetime relationships. We believe in taking the care and time to not only do the job well but expertly. That is why we will never sacrifice the quality of our work or provide you with poor service.
Still not sure? We suggest you listen to what some of our clients have to say about us- Reviews, or to read a little bit more about what makes us passionate about protecting your home check out Our Story!
If you're looking for a painting contractor that can expertly complete your home maintenance project, or there is anything we can do for you- Please just let us know.
Michael Hines Painting has the knowledge and training to expertly complete your Linden staining project. We are eager to show you the quality, confidence and peace of mind our services will bring to your home.
Please email us using the form below or call us right now at 209.256.4587 to get started. We look forward to hearing from you.