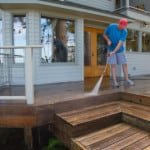 Low pressure Pioneer CA House Washing is the most economical solution to quickly restoring your homes beauty. If you have not had your home washed for a while you have probably started to see an increase of grime, mildew, mold and additional contaminants on the surface of your home.
Eventually they will grow and become embedded into your siding or paint. If left unrestricted it can quickly devalue your home and destroy the curb appeal of your exterior. But more importantly, it can have an effect on the well being of your family and pets.
Thankfully, safe power washing services from Michael Hines Painting are designed to remove these problems on all varieties of siding including stucco, vinyl, aluminum, and more. We can keep your house looking its absolute best while helping to inhibit expensive problems like siding repairs or roof replacement.
We can pressure wash your Pionner home using a low pressure, soft wash. This method entails a treatment of child and pet friendly detergents to your home that will safely strip off years of grime build up. We apply them with low pressure so you don't need to be concerned about your siding or windows being damaged. We follow the soap application up with a selective soft bristle scrub and then finish it with, not one, but two fresh water rinses!
Your driveways and sidewalks can be slightly more challenging to get clean with a soft-wash alone, however Michael Hines Painting's technicians are trained to carefully use high pressure cleaning to remove stubborn dirt from these surfaces and make your entire property shine with a fresh appearance.
Don't tolerate another day of  living with a dirty house. The combination of our biodegradable detergents and clean rinse will gently wash away unsightly buildup and restore your home's exterior to a like new appearance you can be proud of!
Why Choose Michael Hines Painting For Your Pioneer CA House Washing?
At Michael Hines Painting, we believe in the value of lifetime relationships. That is why we will never sacrifice the quality of our work or provide you with poor service.
If you're looking for a contractor that can expertly complete your painting project, or there is anything we can do for you- Please just let us know.
Michael Hines Painting has the knowledge and training to identify the right process for your pressure washing in Pioneer, CA 95666. We are eager to show you the quality, confidence and peace of mind our house washing services will bring to your home. Schedule a consultation on our calendar below or call us right now at 209.256.4587 to get started. We look forward to hearing from you.